How To Reduce Bounce Rates in WordPress: 10 Ways + Tools
It doesn't matter if your website receives thousands of visitors per day. If they don't stick around and interact with your website, your website will never be successful. That's why the bounce rate is an important part of website development.
Bounce rate is a metric that helps you understand your website performance. If a website fails to generate user interactions, generate leads and conversions, higher bounce rates is often the main culprit.
In today's guide, we cover the main aspects of the bounce rate, how it affects your website's growth, and offer tips on how to lower bounce rates. Even though it may sound like a task for a web developer, optimizing bounce rate is a fairly easy thing to do. Just keep reading and you'll find out.
What is Bounce Rate?
Simply put, bounce rate is a metric used to measure the quality of your website visitors. If your website keeps generating lots of visitors but they don't interact with your website, that often leads to a higher bounce rate.
The main goal of your website's content strategy is to convert visitors into a lead. It could be something as simple as to influence visitors to visit a landing page or get them to subscribe to an email list. This is why you produce blog posts and optin pages.
But, when visitors only spend just a few seconds on your landings pages and immediately leave your website without any interaction, it leads to higher bounce rates. And, of course, it also means your website is failing to accomplish its goals.
As you can see, bounce rate has a much bigger impact on website growth than it seems.
How It Affects Website SEO?
Bounce rate also affects your website rankings. As you know, Google constantly updates its search results pages (SERP) to rank the most relevant pages at the top of its SERPs. So when people keep visiting a page but hit the back button immediately, Google recognizes it as a signal for bad content and moves that page link to a lower position on the SERPs.
Even though Google has denied the impact of analytics on SERP rankings, many case studies show it has a bigger impact on website SEO.
It makes sense because Google wants to serve its users with the best search results. To help users find what they were looking for. But it's your job to make sure you make content that provides value.
How to Analyze Your Website Bounce Rate
How exactly do you figure out your website bounce rate? How do you know whether it's high or not?
According to a case study done using 181 websites, a well-performing website should have an average bounce rate of 58.2% or lower.
You can find the bounce rate of your website, along with many other stats, on Google Analytics. Simply login to the Google Analytics dashboard and then open the Audience >> Overview tab.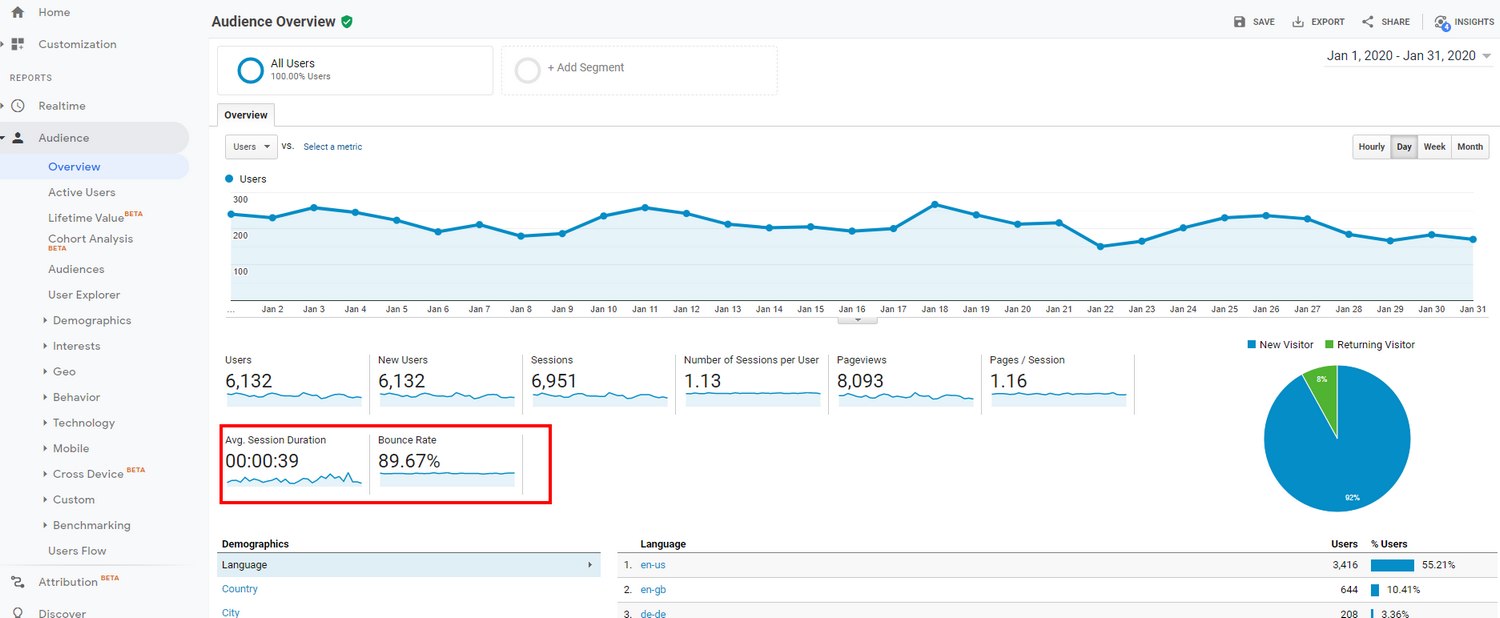 Here you can check the stats for your website for a given time period. If you want to learn the bounce rates of each page on your website, go to Behavior >> Site Content >> All Pages tab.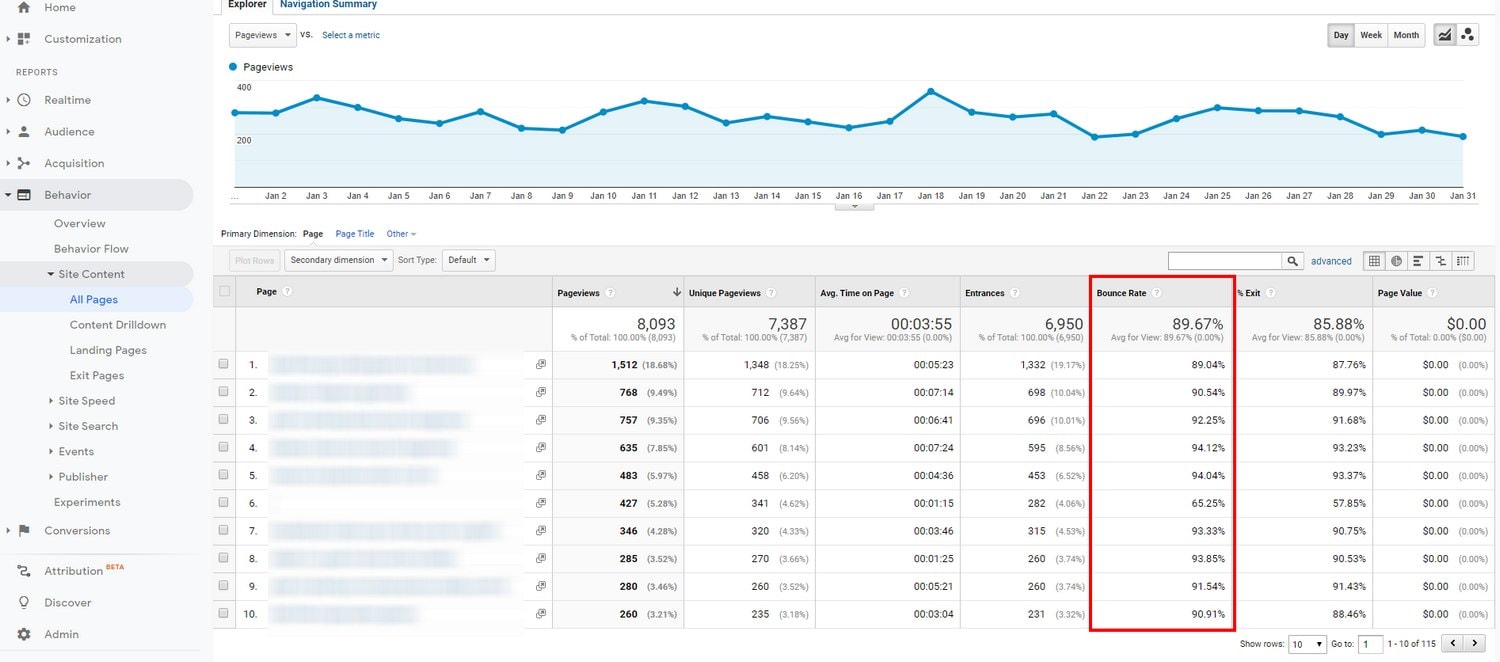 From this page, you can learn which pages are generating higher bounce rates so that you can improve the content to keep visitors from leaving your website.
If you don't have Google Analytics for your website, follow this guide to learn how to set it up.
Best Ways to Reduce Bounce Rate
Even though these tips may sound simple, they can do wonders for improving your website engagements and reducing bounce rates.
1. Write Long-Form Blog Posts
The best way to encourage visitors to stay on your website is to provide detailed and more informative content to consume. It's not just a great way to make visitors stay longer on the page, but also helps build authority as well.
For example, if you're writing a blog post on current trends in web design, turn it into a comprehensive guide. Include examples, case studies, cite reports, and offer your own opinion as well.
This will prove you're an expert on the topic and make visitors trust you enough to explore more pages on your blog. Or even check out your products.
2. Format for Scanning
How many times have you visited a web page and immediately leave after seeing long paragraphs of text in small font sizes? It's almost like an automatic brain reaction.
People hate reading poorly formatted articles and pages. So format blog posts and pages for skimming and scanning. There are a few rules you can follow to accomplish that goal:
Limit paragraphs to 2-3 short sentences
Use H2 and H3 tags
Use lots of bullet points (hint: it's what we're doing right now)
Use numbers to make articles easier to explore
3. Add Interactive Elements & Media
A great way to keep visitors from leaving is to give them activities to play around with. You can leverage this for your blog too.
It could be something as simple as adding a quiz to your blog posts. Or embedding a related YouTube video to watch. Or an image slider to explore. Whatever it is that makes visitors click and engage with your website, just add it to your pages.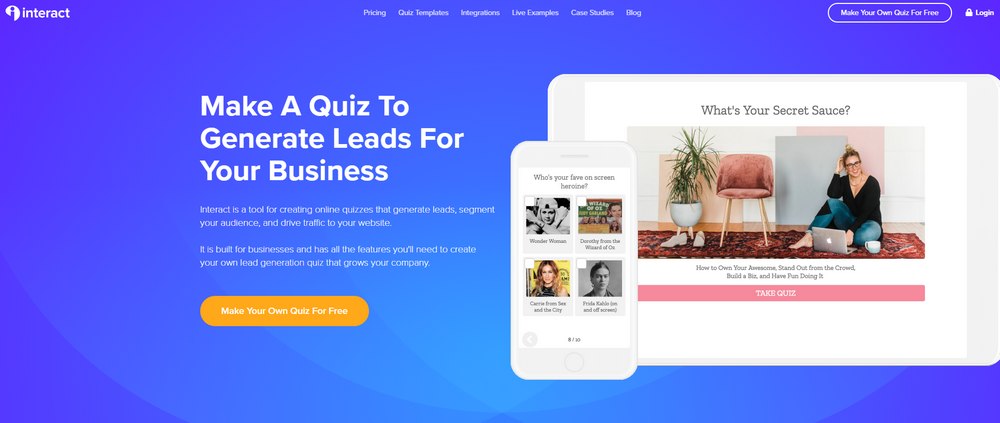 Interact is a great free Quiz plugin you can use to add quizzes to your website.
4. Install a Caching Plugin
Of course, your website's page loading speed plays a role in the bounce rate as well. Everyone hates slow loading websites. In fact, 47% of website visitors expect a website to load in 2 seconds.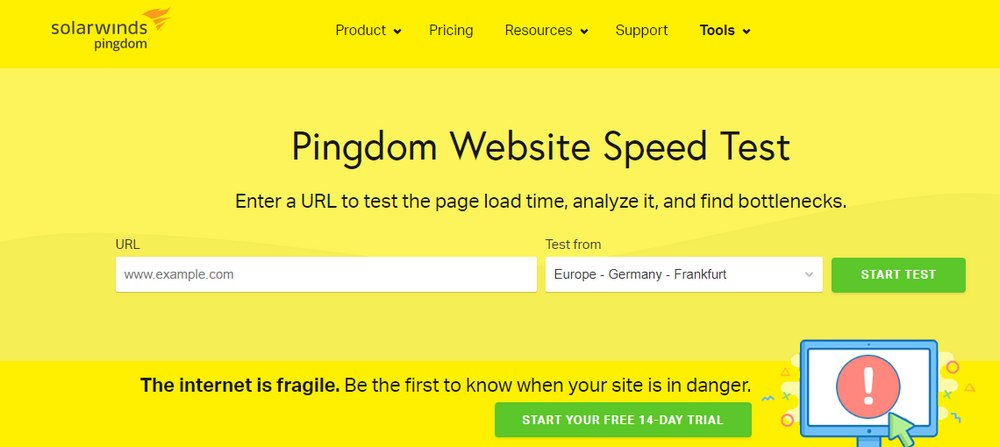 First, visit the Pingdom Speed Test Tool and test your website. See how well your website performs.
Second, make sure you're using a caching plugin on your WordPress website. If you don't already have one installed, try WP Super Cache. You can enable it with just a few clicks.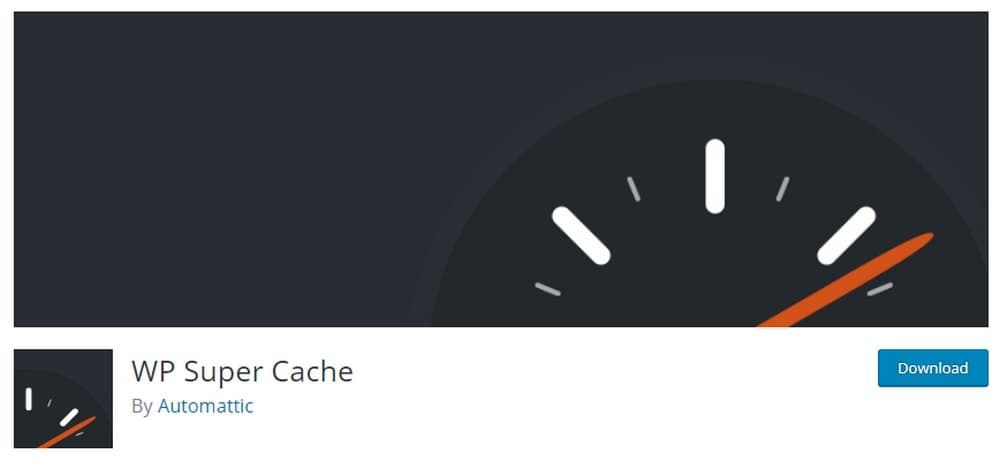 Website caching allows your web pages to load faster by compressing and creating static HTML files of your web pages. This reduces the time spent on retrieving files from the host server every time a visitor opens a web page.
5. Use Exit-Intent Popups
Exit-intent is a clever technology used by many email list building plugins and optin plugins. This technology allows you to catch visitors who are just about to leave your website and offer them an incentive to stay longer.
For example, when someone visits your landing page and is just about to close the browser tab, you can show a pop-up message giving them a coupon code or a freebie to get them to shop on your store or subscribe to your email list.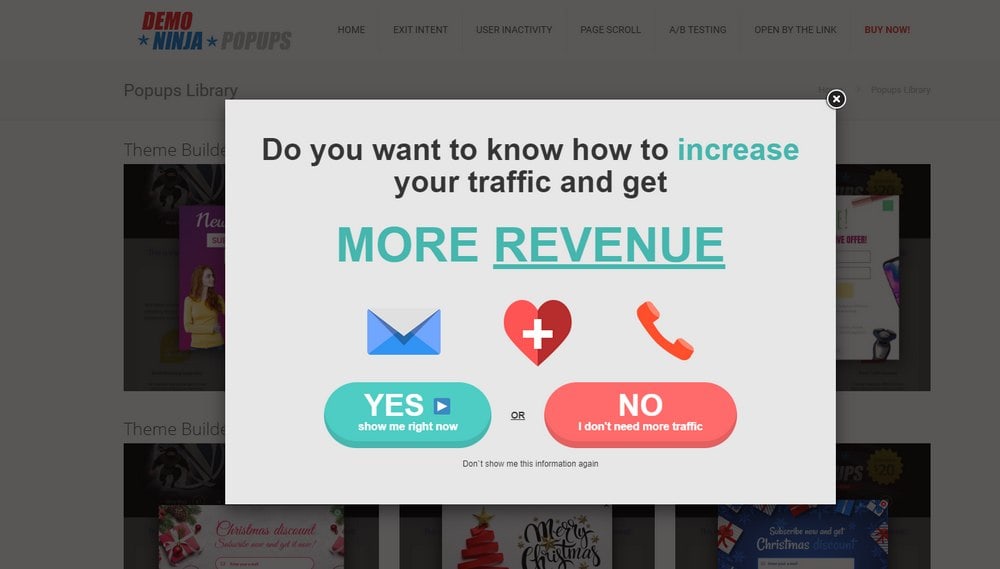 Ninja Popups is a great plugin you can use to setup exit-intent pop-ups in WordPress websites.
6. Run an A/B Split Test Campaign
A/B split testing is another effective way to optimize your pages for the best results. With split testing, you create two versions of your landing pages with different designs to see which one performs best.
You can actually split test your blog post content and headlines to generate better results as well. You can easily implement an A/B testing tool in WordPress using plugins. Check out our guide on A/B split testing tools for suggestions.
7 Avoid Writing for Search Engines
One of the biggest mistakes many bloggers and businesses make when creating content is stuffing too many keywords into one post and filling it with terribly written paragraphs. Just for the sake of ranking higher on Google and generating traffic.
Well, guess what? All your efforts for ranking for keywords will go to waste if visitors find your content to be useless. Then they'll immediately leave. Resulting in your bounce rate skyrocketing through the roof.
You should optimize your blog posts for keywords, but don't do it excessively. Target 1 main keyword and 2-3 related keywords. Then, and more importantly, write content that is actually useful and informative. Not just to impress Google, but to impress the readers.
8. Leverage Storytelling
Have you ever wondered why people have their own favorite coffee shops or clothing stores that they keep going back? It's not just because of the quality of the clothing or the taste of the coffee. Often times it's because of the customer experience. The way employees treat you and serve you have a strong effect on your overall experience.
This same rule applies to websites and blogs. If you want visitors to keep coming back for more, you have to make an emotional connection with them. The best way to do that is to use storytelling.
Adding a backstory about your company on the homepage or even including a small personal anecdote in blog posts is enough to show your visitors that you're different from millions of other websites.
9. Internal Linking
You also need to start linking to other pages on your website from your blog posts. If you scan through this article, you'll notice that we've linked to several other guides on your blog. Mainly because we can't cover each concept or topic in detail in one blog post. So wanted to give options to readers who are looking for more information on certain topics.
This practice also helps you to keep visitors from leaving your website. By suggesting more articles to read, more people will stay on your website for longer periods of time.
10. Use WordPress Widgets
Another great way to offer recommended content suggestions is to use WordPress widgets. You can add a sidebar widget to showcase popular articles, add a recommended posts section at the bottom of your blog posts, and add a floating widget to suggest what to read next.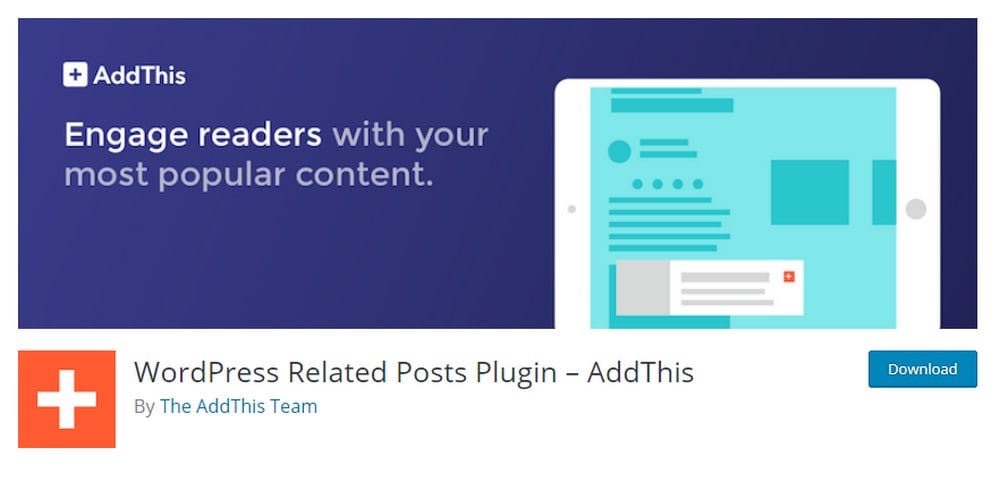 AddThis Related Posts plugin is a great option you can use to add a recommended posts widget to your website.
Conclusion
Maintaining your website bounce rate at an optimum level is a continuous struggle. However, by following our tips, your job will get easier. But, don't stop there, you can also find more ways to optimize your website for performance.
Or, maybe it's time to revamp your old website with a new design. Be sure to check out our exclusive themes bundle for inspiration.
.